GLO Hotel Airport
GLO Hotel Airport
Change page
Dear guests,
Welcome to GLO Hotel Airport!
GLO Hotel Airport is the only hotel located in the Helsinki Airport terminal. The entrance can be found in the airport's arrivals hall, from where there is a direct elevator connection to the hotel ground floor (P). Need some relaxation space for a few hours? Check out our RestPod concept. RestPods are private spaces for short-term use of rest and work, which can be booked from four to seven hours at a time. RestPods are intended for use by anyone visiting the airport.
Warm Welcome!
- General Manager Jorma Pekkala & GLO Hotel Airport's team
Find us
GLO Hotel Airport is located at the terminal landside on the ground floor (P). Follow the signs to the hotel from the arrival hall. If you need directions within the airport please check our map of the airport and follow the directions or call to our reception.
RestPod – A new resting space concept for Helsinki Airport visitors
RestPod is GLO Hotel Airport's new concept for short stays. Ten private, quiet spaces provide a safe environment for relaxing or working during an airport break at Helsinki-Vantaa Airport.
BREAKFAST AT THE AIRPORT
GLO Hotel Airport does not have its own restaurant yet we collaborate closely with restaurant operators at Helsinki-Vantaa airport. We have created three different breakfast options for you to choose from that best suits your schedule.
Travel smoothly – keep up-to-date with the airport's special arrangements
The attraction of Helsinki is growing. Consider these tips for a smooth journey!
Play video
More about GLO Hotel Airport
Relaxing in style before the flight
GLO Hotel Airport is the perfect choice for a nighttime stopover, allowing you to continue your journey refreshed in the morning. Located inside the terminal on landside, the hotel is just a few steps away from the departure gates. In addition to regular hotel rooms, GLO Hotel Airport also offers day rooms, where you can relax during even a short stopover.
GLO Hotel Airport is the only hotel inside the Helsinki Airport building. The security gate in is a mere few-minute walk from the hotel. Whether you are taking a morning flight or waiting for a connecting flight, GLO Hotel Airport is the best place to relax in a comfortable setting.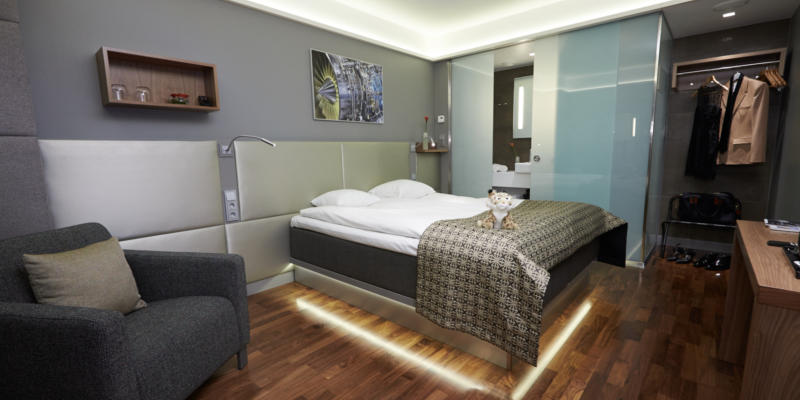 Compact and functional hotel rooms for short-term stay.
Our newly modernized rooms are perfect for a good night's sleep if you have an early flight to catch the following morning, and you are only steps away from the security check if you stay with us.
Read more
Take a nap at GLO Hotel Airport before your flight
Come for a while, have a rest, take a nap or have a refreshing shower and you will feel good as new to continue your journey!
Read more