GLO Hotel Airport
GLO Hotel Airport
Change page
Dear guests,
After a long renovation, the magnificent new Helsinki Airport will finally be completed! In the final renovation phase, we will have to temporarily close GLO Hotel Airport from 1 December 2021 to 16 February 2022. After the opening of the renovated airport, we are still the only hotel inside the airport terminals, welcome!
If you already have a reservation for GLO Hotel Airport during our closure, we will contact you personally and help you with your booking arrangements.
- General Manager Jenni Javanainen & GLO Hotel Airport's team
Safe stay - for your safety
GLO Hotel Airport offers the opportunity to unwind at the airport hotel without separate transfers - just a few steps from your departure gate. Whether you are traveling on a morning flight or waiting for a connecting flight, this airport hotel is the best place to relax in a comfortable, safe environment while waiting for your flight.
Travel smoothly – keep up-to-date with the airport's special arrangements
The attraction of Helsinki is growing. Helsinki-Vantaa's expansion work will commence in January 2019 and will have an impact on the airport's traffic arrangements. Consider these tips for a smooth journey! 
Located on the ground floor, T2 landside
The hotel is located at Terminal 2, landside, on the ground floor just between arrival lobbies 2A and 2B. If you need directions within the airport please check our map of the airport and follow the directions or call to our reception.
Play video
More about GLO Hotel Airport
Relaxing in style before the flight
GLO Hotel Airport is the perfect choice for a nighttime stopover, allowing you to continue your journey refreshed in the morning. Located inside Terminal 2 on landside, the hotel is just a few steps away from the departure gates. In addition to regular hotel rooms, GLO Hotel Airport also offers day rooms, where you can relax during even a short stopover.
GLO Hotel Airport is the only hotel inside the Helsinki Airport building. Located in Terminal 2, it has a convenient indoor corridor linking it to Terminal 1. The security gate in Terminal 2 is a mere two-minute walk from the hotel. Whether you are taking a morning flight or waiting for a connecting flight, GLO Hotel Airport is the best place to relax in a comfortable setting.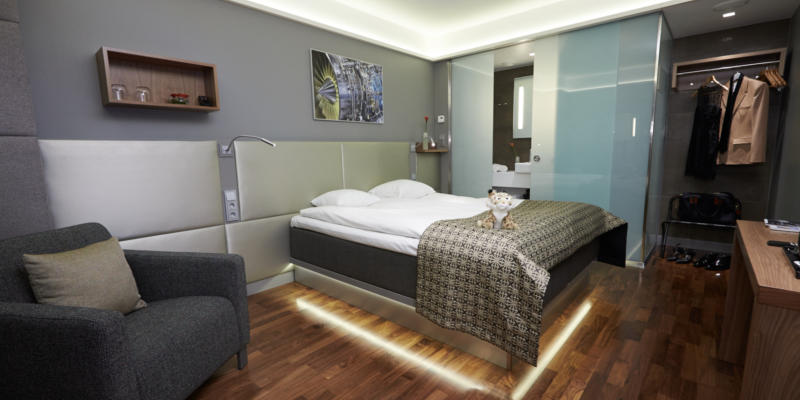 Compact and functional hotel rooms for short-term stay.
Our newly modernized rooms are perfect for a good night's sleep if you have an early flight to catch the following morning, and you are only steps away from the security check if you stay with us.
Read more
Take a nap at GLO Hotel Airport before your flight
Come for a while, have a rest, take a nap or have a refreshing shower and you will feel good as new to continue your journey!
Read more